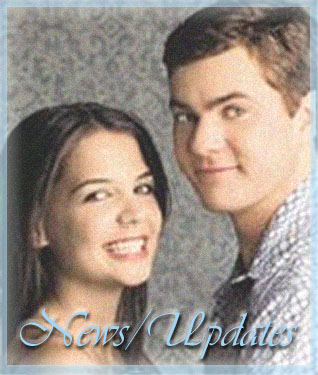 12/5/01:
Just uploaded a new fanfic by Ophelia, Every Night You Stay, and two fanfic by Laura, Rocking the Boat and Love & Basketball. I also updated the Links section.

11/30/01:
Two new one parters by Ophelia, Coming Back and Wonder Why are now up.

11/13/01:
Bronwen's next part of the Tortured Joey series, Still I Long For Your Kiss is now up. Some very good reading.

10/26/01:
sparkle_eyez made some more of her beautiful fanart. Go check them out!

10/10/01:
She's back! Hurry up and go read WitterWoman's "It's Been Awhile".

10/5/01:
Uploaded Begonia's brand new fic, "Coming Home". And go check out Kaytee's new and improved site, www.kaytee-did.com.

10/1/01:
Added Laura's fanfic, "Crossing Paths". I will be adding more of her work soon.

9/11/01:
sparkle_eyez sent me some of her beautiful fanart. Go check them out!

9/08/01:
I actually worked on my site. Season 1 Lines/Banter and the Desktops are finished and so is the Season 4 music list.

8/28/01:
A second fanfic from Bronwen's Tortured Joey series has just been added. Check out "I Envy The Wind".

8/15/01:
A new fanfic from some new writers-"If I Was The One" by Steph and Sophia. Also, there is some new fanart by SilverAngel.

7/18/01:
It's an angst-filled Joey watching Pacey in WitterWoman's "Everywhere I Look".

6/28/01:
I'm loving this sudden fanfic boom. New and lots of "Clean" fun from WitterWoman.

6/26/01:
A new fanfic by Bronwen, "A Case of You" has just been uploaded.

6/13/01:
An Ode to Pacey and Joey exclusive fanfic from Ophelia, "The Last Picture Show", is now up for reading.

6/11/01:
Just wanted to say, Happy Birthday, Josh!

6/05/01:
I love this one! I think it has become my new favorite WitterWoman fic, "I Feel You".

5/23/01:
A gooey new fanfic by WitterWoman, "The Place Where We Started". A great alternate to the season finale if you ask me.

5/14/01:
The last episode may have been sad and depressing, but it seems to have inspired some work out of me and KTGirl. Check out the fanart section.

5/12/01:
Updated the music section, and 3 fanfics added. Ophelia is allowing me to add her fanfic to my site, starting with "Slow Speed Chase" (more fanfic by her to come soon). Bronwen just wrote a new fanfic called "Till I Gain Control Again". And a new writer, Begonia, sent me her fanfic, "Study Sessions". Enjoy.

5/05/01:
Actual updates on the site coming soon...I hope. In the meantime, read a new and gooey fanfic by WitterWoman, "Impressive Instant". Also, check out Tinkerbell's new site, Road To Neverland.

4/24/01:
A new fanfic by WitterWoman, "This Carousel", has been added.

4/16/01:
A couple new angst-ridden fanfics ("Gone" and "Miami") by WitterWoman now up, and the links section has been updated.

4/05/01:
4 new fanfics have been added. 3 by the talented Kaytee and 1 by the goo-writer herself, WitterWoman. In the Lines/Banter section, the desktops have been updated.

4/02/01:
Sorry. No updates from me, but they are coming soon. Just wanted to let you all know that PaceyPorn.com has gone live. There is also a link to the site available in the fanfics section.

3/20/01:
Another great fanfic by WitterWoman-"The Call"-is now up. I have also started working on the "Lines/Banter" section a little bit.

3/12/01:
Just wanted to let you all know that KTGirl made me a new banner for my links page, and since I LOVE it, I had to share the news.

3/09/01:
Not much of an update. Sorry folks. Just updated the music section and included a new P/J site to the links. Check out Marie's P/J site: "True Love Always Finds It's Way".

3/01/01:
A new goo-rific fanfic by WitterWoman called "The Sea of Waking Dreams". Now only if the morning after sex day had been like this... Also, new fanart by KTGirl.

2/23/01:
Two new fanfics added. ShiningBright makes her debut with "At the End of the Docks". Also, WitterWoman has a new fanfic called "Not For Me".

2/14/01:
Happy Valentine's Day! Click here for a little V-Day treat. Also in honor of this day, more goo-rific fanfics by WitterWoman.

2/12/01:
New fanart and wallpaper made by yours truly. Check it out. The page with the sex day wallpaper and it's many options of quotes is no longer available. If there was a particular one you wanted and didn't get to download it, let me know.

2/06/01:
Part 2 to SarahJanet's "Cherries" is now up. Also, some fanart by KTGirl in honor of SEX DAY.

2/01/01:
Woohoo! Next week is THE episode all P/Jers have been waiting for...SEX DAY!!! or Nookie Day...depends on who you ask. Anyway, in honor of this special day, I have made wallpaper.

1/30/01:
New fanfic called "Cherries" by SarahJanet is now up. Also, another great fanart by KTGirl.

1/29/01:
I made banners for people to use to link to my site. Just look under "Links". If you don't like any of the choices, you can wait because I'll be making more banners. Eventually.

1/28/01:
Okay, lots of updates. First, there's some new fanart by KTGirl. Second, there is a sequel to Bronwen's "Again" called "Forever". My oh my...it's good. And finally, I included some links on the links page. I know, I know. It's about time.

1/17/01:
Another fanfic by WitterWoman has been added. It's called "Here In My Arms".

1/16/01:
I finally made a banner for the home page. Go me! Also, KTGirl has made two new fanart. I especially like the "Love is a moment that lasts forever" one. Check it out.

1/12/01:
New fanfic have been added. Thank you to WitterWoman.

1/10/01:
New fanfics have been added. Thank you to Kaytee and Tinkerbell.

1/6/01:
The music section has just been uploaded.

1/4/01:
The fanart section is now up. Check it out.

1/2/01:
This site is still under construction. Some of the links work and some don't. And some lead to empty pages. If you would like to know when the site is fully up and running, e-mail me, and you will be one of the firsts to know. Thanks for your patience in the meantime.