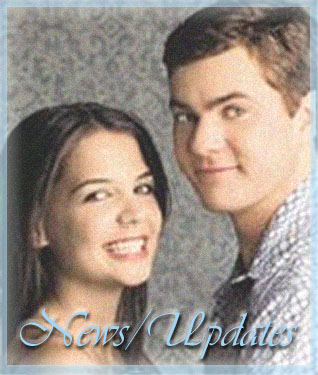 10/22/02:
Part 4 of the Season 6: The Fanfic Alternative is now up.
10/15/02:
I know I said that I would never write fanfic cuz I just can't write but I was willing to forget what I said for this project. Yup. It's true. I wrote Part 3 of the Season 6: The Fanfic Alternative. Okay. I got a lot of help from Ophelia. Thanks, Ophelia, btw. Anyway, consider it sort of my fanfic premiere.
10/08/02:
Part 2 of the Season 6: The Fanfic Alternative has just been uploaded.
10/01/02:
The day has finally arrived. It's the premiere of Season 6: The Fanfic Alternative.
9/26/02:
Another new DeepBlueSea fic has been uploaded. It's called Lies We Tell Ourselves.
9/20/02:
DeepBlueSea's latest fic, Fairy Tale Endings, has just been added. And I've actually added stuff in the "Extras" section so be sure to check that out, too.
9/19/02:
Just some small updates. Redid the links page to get rid of broken links and make things simpler. And there's some new fanart by AlwaysTheVillain.
8/31/02:
There are two new one parters by DeepBlueSea. "Just One Night" and "Ghosts" - Go read them!
8/16/02:
It's a new fanfic by DeepBlueSea. "The Beginning of the End" has just been uploaded.
6/10/02:
DeepBlueSea has a new one called, "Weathering The Storm". It's set back during the P/Jo summer of 'True Love'. Aww...I miss those days. And wish we actually got to see them. Also I do realize the banner doesn't load. It'll be up as soon as I'm done.
5/17/02:
The conclusion of DeepBlueSea's "After This" has been uploaded. Good stuff.
5/7/02:
Chapter 6-10 of DeepBlueSea's "After This" are up.
4/29/02:
The start of another great fic by DeepBlueSea. Chapters 1-5 are up for "After This".
4/27/02:
A new fanfic writer, DeepBlueSea, has been added to the fanfic section. I love all her stuff. They are all a must read!
4/17/02:
Added Ophelia's "Daily Distractions" and "Five Years" in the fanfic section.
3/30/02:
I know, I know. I'm very sorry for my lack of updates. I swear I am working on it. In the meantime, enjoy some fanfic updates. Begonia has written 2 new fic, I've added Ophelia's "Over You" which I'm sure you have all read already, and Laura Smith's "Never Thought I'd Be Here" with more to come.
1/07/02:
Happy New Year! I've decided that this site needed a new look for the new year. This layout also makes it much easier for me to update and maintain the site. Hope you guys like it. My resolution is to actually finish all the sections. And coming soon...Laura Smith's fanfic.